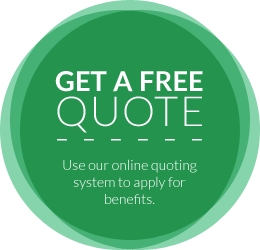 EMPLOYEE BENEFITS
What are Employee Benefits?
When you hear a new employee asking if "benefits" are offered, they are generally referring to health insurance. However, there are many types of employee benefits you can offer to make your company competitive:
Health Insurance
Dental Insurance
Vision Insurance
Chiropractic Insurance
Life Insurance
Disability Insurance
Retirement Savings Plans
And more!
 can help you decide what level of coverage and level of contribution is right for your company – to keep your budget in line, keep you consistent with standards in your industry, and keep you competitive when hiring.
What does it cost to offer employee benefits?
You have a great amount of flexibility in how much you will spend on benefits plans for your employees.
Full premium costs for the insurance varies based on carrier, plan type, level of coverage, region, and employee age.
However, you do not have to pay the full cost; most employers choose to pay for a percentage of their employees' premiums. The minimum contribution on health insurance is 50% of the lowest level plan offered, though most employers choose to cover more to be competitive when hiring.
Ancillary benefits, such as dental and vision insurance, can be fully paid for by the employee as a voluntary benefit option.
Quotes and an analysis from Benefit Experts to help you decide if and when benefits implementation is right for your company are  always  free of charge!
Am I required to offer employee benefits?
Currently, under the Affordable Care Act, employers with 50 or more full time or full-time-equivalent employees are required to offer coverage.
If you are not sure whether you fall into that requirement, Benefit Experts can help you analyze when you will need to legally begin offering benefits. However, most employers – especially those in white-collar industries – offer benefits much sooner.
Group benefits plans give the participating employee access to  better  and  cheaper  insurance coverage than if they were buying it on their own. Some benefits can also be offered at no cost to you as the employer (e.g. dental and vision insurance), which gives the employee the option to sign up for a high-quality insurance plan for a fraction of a cost of what they would have paid on their own.
It is still a strong benefit that makes your company more competitive, but does not cost you to do so!
Is offering employee benefits a lot of work?
No – not with us! Benefit Experts never charges a fee of any sort to manage your benefits accounts, and in exchange, we take almost all the work off of your plate.
We manage enrollments, terminations, changes, renewals, calculating payroll deductions, and fielding employee questions.
Once the initial paperwork is set up, all you should ever have to do is let us know when an employee is hired or terminated; we'll do the rest!
What are the steps to get set up?
If you are interested in adding employee benefits for your company, here is an overview of how the entire process works:
Download this census [click here to download], and questionnaire [click here to download], complete, and email to Quotes@Benefitexperts.com. The questionnaire is optional but will make for a quicker quoting process.
Once we receive your census and questionnaire, we will have quotes back to you via email within 24 hours, but often sooner. We can follow up with a call or in-person meeting if you prefer.
You will pick the plans you want to offer and what contribution levels you would like to set – we can guide you through this.
We will pre-fill employer paperwork and applications for you, then send them for you to electronically sign.
We will set up an enrollment portal for your employees and send them access. They will be able to walk through, see what each plan costs, play with difference scenarios, run doctor searches, etc. in order to make an educated choice. They also have our contact information for further questions and guidance. Employees electronically sign enrollment forms through the portal.
Once employer and employee paperwork is collected, it is sent to the carrier to process. This takes about a week and coverage is always effective on the 1st of the month.
Employees are sent ID cards so they can start using coverage. We calculate payroll deductions and send to your payroll vendor for you, and you're set to go!
After the initial paperwork, all you have to do is give us a new hire's email address, and we will take it from there. We're always here for employee questions as well, so that you do not have to be the expert on insurance.

Benefit Experts Insurance Agency is your company's one-stop shop for Employee
Benefits (Health, Dental, Vision, Life, Disability, etc.) and Risk Management /
Commercial Insurance Policies (General Liability, Work Comp, Directors &
Officers, Professional Liability, etc).